OUR MISSION
The Project Room is a gathering place and online platform presenting work, ideas, and people that inform our understanding of creativity in contemporary life. By asking big questions that reflect the human experience, TPR's activities offer an inquisitive approach to the way we understand the arts.
Through a dynamic collection of public programs that focus on works-in-progress, The Project Room presents work, ideas, and people that respond to specific themes and demonstrate the relevance of creativity in everyday life.
The Project Room aims to be inclusive in all of its endeavors, featuring different points of view and areas of expertise. In addition to the arts, programs feature technology, culture, history, geography, industry, and other areas that intersect with the specific question in focus.
From 2011-2013, The Project Room asked the question, Why Do We Make Things?
From 2014-2015, The Project Room asked, How Are We Remembered?
The Project Room was on Capitol Hill at 1315 E Pine St. Seattle.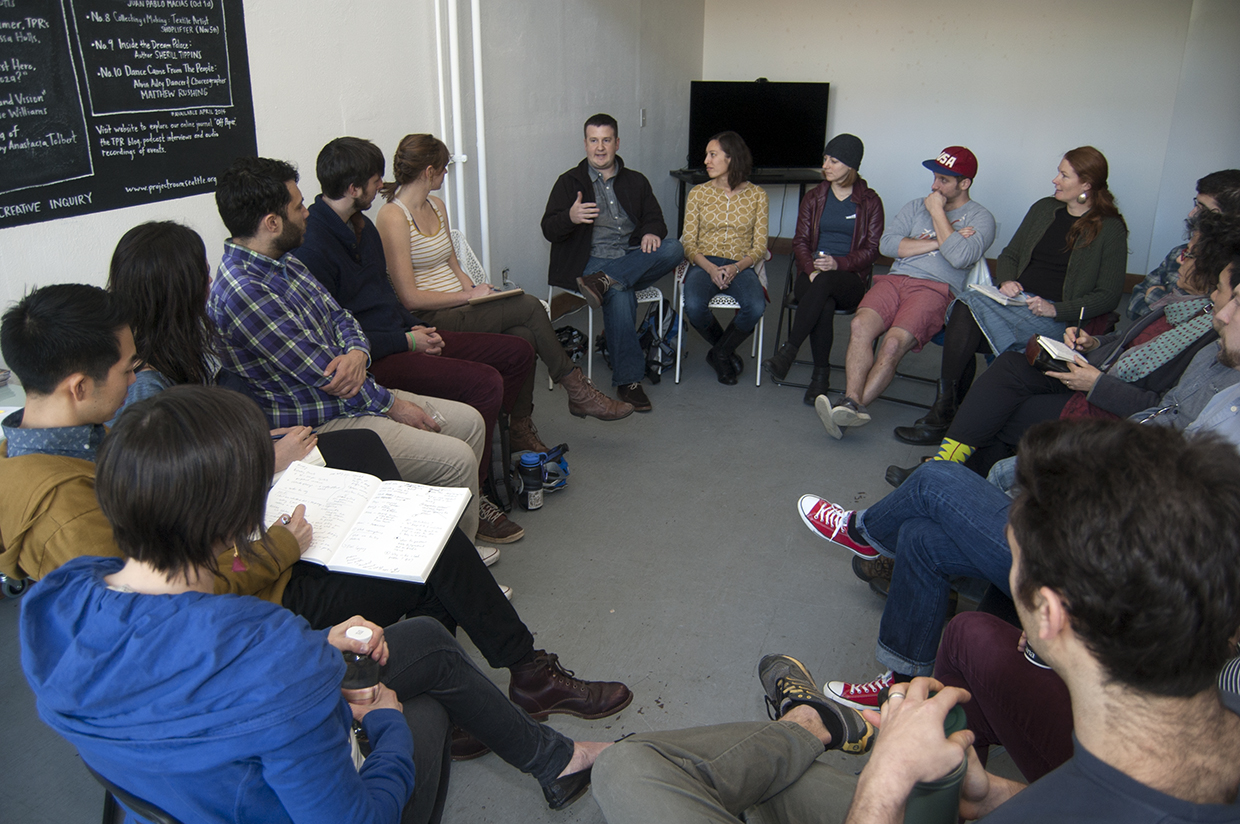 Helping out at The Project Room
Whether you're attending an event, lending a hand as a volunteer, or considering joining our Founders' Circle, there are all kinds of ways you can be a part of The Project Room.
Tessa Hulls, Editor
Tessa Hulls is an artist/writer/adventurer who is fascinated by the concept of home. Tessa grew up in a tiny town (really: 350 people tiny) on the coast of Northern California and spent her formative years reading her way through the public library and climbing interesting trees as she roamed through the hills by herself.
In 2011, Tessa became hopelessly addicted to long distance bike travel while cycling alone from Southern California to Maine, and since then, she has lived a semi-nomadic lifestyle that allows her to conduct creative field research in remote places. Tessa's restlessness has joyously dragged her across all seven continents, and while she calls Seattle home, home means base camp: it is the staging ground that she returns to between expeditions. When not in Seattle, Tessa can often be found (or deliberately not found) in Alaska.
As a compulsive genre-hopper, Tessa is interested in the intersection between seemingly unrelated disciplines. As a visual artist, she has shown at The Henry Art Gallery and has completed large-scale murals for the Microsoft Corporation and the Capitol Hill Sound Transit Art Wall. She has written for Redefine Magazine, On the Boards and The Stranger, and has "done a bunch of weird stuff that is pretty hard to explain" at Washington Ensemble Theater, The New Foundation, 826 Seattle, The Breadline Performance Series, Sprout Seattle, Canoe Social Club, Weird and Awesome With Emmett Montgomery, Washington Artist Trust, The APRIL Lit Fest, The Smoke Farm Lo Fi Festival, Art Nerd Seattle, Hugo House, Café Nordo, and others.
Jess Van nostrand, founder
Jess began her arts career in musical theater, dreaming of the leading role in Annie on Broadway and subjecting her family to many living room performances until she was able to find a larger audience in her grade and high schools. Later, she transitioned to classical singing and became a member of the San Francisco Symphony Choir, the National Choir in Washington DC, and many other vocal groups. She also enjoyed a humbling experience as the only American in a Gilbert & Sullivan opera company in London. Jess' love of visual art, however, wouldn't leave her alone, and she began a long effort in finding her place in the visual arts community, writing at first for a now-defunct publication called Verge Magazine and working at a non-profit opera organization before moving to Seattle as part of a cross-country road trip.
Prior to opening The Project Room, Jess was the Exhibitions Curator at Cornish College of the Arts, where she created the popular alumni retrospective series and the chance operations-based exhibition about choreographer Merce Cunningham. She is now the Assistant Director of Exhibition Programs and Gallery Initiatives at The Museum of Modern Art, and serves on the TPR Board of Directors.
Madeline Rose Williams, Editorial Assistant
Madeline Rose Williams is an aspiring florist, bookbinder, dinosaur portraitist, and writer. Born in sunny Southern California, she moved to less-sunny Seattle to receive a BA in English Literature and History from Seattle University, spending as much time as possible talking about the Middle Ages (regardless of the actual class topic), perfecting her Aeropress coffee-making technique, naming her potted plants, and telling dad jokes. A few of her favorite things include hedgehog figurines, unusual yet technically correct punctuation, olive green, illuminated manuscripts, and odd lists. Madeline enjoys helping out at TPR in any and all capacities, wearing as many hats as will fit on her head.
BOARD OF DIRECTORS
Seth Friedman, President
Mike Smith, Vice-President
Sarah Novotny, Treasurer
Britt Rynearson, Secretary
Matt Wolfe
Jess Van Nostrand